>> Saturday, 1 November 2008
Happy birthday, Sis and Cousin Vee :)

Happy grad fellow juniors and seniors, happy examing :D

Heroes, William Joseph


Piano backed with a 72-piece orchestra. This ain't bad. I've never listened to Maksim so I can't make comparisons la. Anyways he looks cute haha.

*

Initially preserving Little C is disgusting. Grasshoppers look much better mannn. But it gets fun eventually.

And I banyak tangan sangat accidentally ruined one of Little C's antenna.

Genius la. Now I have a legitimate sane excuse to preserve Little C II hehehe.

And future flies.

Seeing it struggling due to the extremely pungent ethyl acetate makes my heart ache. Too bad though; the process after that is fun.

I think I make a good doctor hahaha.

Dr. Ching Siu Jeen the Honey is damn kind. And pro in preserving. I think she makes a good doctor too. So is Dr. Seng Zuo Hao aka Er Hu's hubbie.

Speaking of doctor, now I feel like being a doctor. Genius la I dropped Physics already :/ Funny that the thought is taking root in my mind, deeper, when I've stopped watching House, M.D. (more like stopped watching TV).

FASTER I WANNA DISSECT RATS I WANNA KILL MY DESIRE TO BE DR. TEONG M.D.

AND OMG DRYOPTERIS :X Still cannot find a perfect one la. Either it putrefies or I'm unsatisfied or I banyak tangan.

I'm like Thousand Hand Guan Yin hahahaha.

*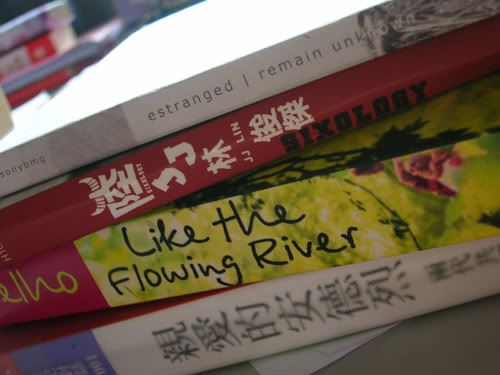 Estranged's
Remain Unknown
is not so bad. Just cuz I couldn't get Estrella's
Estrella
and/or Jerome Kugan's
Songs for a Shadow
. Yeah. I'm still cravin'.
I seriously believe MalaysiaNs boleh.
JJ's
Sixology
is more creative this time around. Love the diversity. Sadly his fashion sense ain't that, eh, sane. BUT HE'S STILL CUTE LA OMG FEEL LIKE BITING HIS KAWAII FACE LIKE AN APPLE.
Sorry. Have this abnormal to urge to bite on kawaiiness. I'll be a bad mother. (Eh my kids if I ever have will definitely be adorable
like his mommy
k.)
Paulo Coelho's
Like the Flowing River
is, uh, no idea. I just, uhmm, am insane about him right now. Hehe.
Lung Yingtai & Son's
Dear Andreas
. I've been seeking for this book for like AN ETERNITY. I love the Popular auntie laa *hugs*
I'm broke laaa :(
*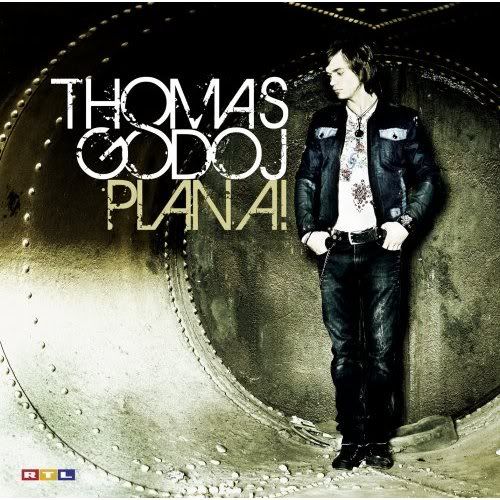 Thomas Godoj is a Polish and I love the German songs he sang in this album, which there are a few. And German sounds nice LOL. I like foreign languages cuz they sound so foreign and unknown.
*
Mom bought guitar for bro OMG YESSSSS GUITAR.
I'm torturing my fingers though. I can't even do a decent C chord.
Genius la little hands -_____-;;
I DON'T CARE I DON'T CARE I DON'T CARE I'M GONNA OVERCOME THE GENE OF LITTLE HANDS AND LEARN THE EXACT C CHORD.
*
Cousin Vee's in LOVE! I remember
some time ago
she thought I was insane for crushing on humans. And now she's like what, PDA?
Wonder what's it like to crush on humans. Seriously la life is damn bland without a crush o____O I think I've been complaining about this since last year lol. I'm a blank piece of paper.
Hahahaha. I remember Schwann asked me "What if a guy asks you to stay with him tonight" (over super corny lyrics from Yuna Ito's
Endless Story
lyrics that YH is suddenly interested in) and I said "Oh ok la let's study" and he was like "DENG" and then he asked again "Study what" I said "Anything except Biology".
Mmmm. Chemistry ain't bad. LOL.
*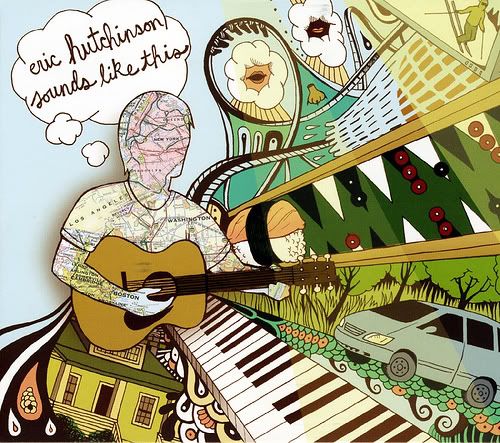 Extremely extremely catchy folk pop (but less catchy than Mika). I loveylove the opening
Ok, It's Alright With Me
! Love the psychedelic album cover too. Reminds me Mika's
Life in Cartoon Motion
but I like this one better :D
*
I want to form an a capella group. Cuz YC loves a capella and she told me about it and I go "OMG I LOVE A CAPELLA OMG DAMN NICE LA" and YC suggests to form an a capella group and I told her "OMG YES YES SURE SURE" and I start humming some familiar random tune.
I hv micophobia. I'm more comfortable singing without a mic.
I wanna form a speaking group. Cuz my speaking sux like, sux :( Schwann was damn convincing k. And I was adamant about keeping my stand haha damn stubborn. May said he was nervous, I wasn't sure. He spoke the most but it felt more like TEACHING instead of DOMINATING lol. Teachers' Syndrome?
And my mind just go blankablankblank like magic *poof* haha genius -__________-;;
Overall I'm satisfied with my exam results la, still got lotsa room for improvement.
OMG I SOUND SO NERD.
*
The Internet is a big plate of cake intended for sharing cuz no-one owns it.
I CAN'T BELIEVE YOU CAN ACTUALLY DOWNLOAD BOOKS HAHAHAHA *crazy laugh*
I overheard this album in Rock Corner in The Curve / Ikano (no sense of direction la sorry). Yeah I went lone ranger shopping haha. A very nice lounge album to be listened to while studying Chemistry in the heat of a Saturday afternoon :P
Seriously. I think lounge music is best listened to in the afternoon.
*
Hmmmm. Maybe I shall compose THE Requirements '08 list or something cuz I am inspired haha. Mmmm, maybe the future posts. If I can come out with something.
So that you guys won't have a hard time hunting one for me, so considerate of me.
Paulo Coelho's
The Way of the Bow
is very Zen-ish, and very inspiring. I HEART THE INTERNET LA.
All Over Now
, Eric Hutchinson