>> Friday, 4 July 2008
*waves* Hi CHSians!

And it's Supposed to be Love, Ayo

SOMEONE FROM MY CLASS KNOWS THIS BLOG'S EXISTENCE.

DIE DIE DIE HAHAHA.

I'll be like the what b*tch of the century or something.

I hope they didn't read the previous posts, teehee.

Now I cannot write secrets.

Hahahaha.

Ok seriously, I'll have to be more careful while writing you know I mean OMG HAHA I don't know why I have to be careful I mean it doesn't matter.

Btw, happy 18th Shu Zhen :)



It's July. Have you done anything?
I have 3 more inches to lose, hahaha.
Today we had our practice of acid-base titration. What was ludicrous was that SM and I mixed up alkali and acid. So we ended up doing the whole thing again...
Damn genius la us.
We got our pipette filler. It substitutes our mouth.
Yes.
I did CPR/gave my first kiss with/to the freaking pipette.
I'm so not gonna be a pharmacist maaannn.
I mean,
making out with a pipette instead of a cute doctor
.
Schwann Cell said I sing very nice.
Teeheehee, thank you la :)
Nah, I don't sing that loud. No-one as crazy as me to embarrass/show off together-gether la, maturity, sigh.
YES FELLOW CHSIANS (if you're reading this, somehow) I SING LIKE CHRISTINA AGUILERA MANNN, HAHAHA.
I was part-humming part-singing to myself because I was bored with Maths and Biology.
Stupid protein.
And then he was like asking Chin Peng, "Eh did you hear her sing?"
"No." (Ignorant. LOL. JK.)
"Very nice weih."
So sweet la :)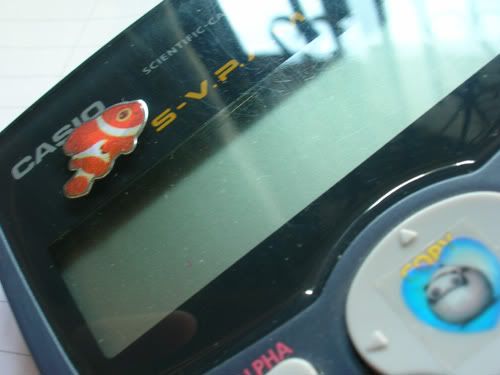 Bloop-ish.
I often mix up my and SM's calculator. Ok actually I mix up my and everyone else's calculators. So I had to resort to
childish ways
to identify it.
Calculator doesn't have a name la. But I depend on it more than ever, even for factorisation.
Lazy laaa.
Anyways I start to think that everyone is trying to dig up something from me, I mean probably among the new students.
I'M JUST BEING PERASAN LA K LET ME ENJOY THE FAUX ATTENTION HAHAHA.
Like,
"I heard what you said just now. You wanna be a librarian, is it? Ah, I know you were a librarian in your last school. See, I know everything about you."
He doesn't even let me ask questions lol.
Ok well I decided not to be one anyway, hahaha. Their job looks tedious. Some more no special uniform, just a green tie.
I think Chinese school tends to not to waste money on "unnecessary stuff".
Half-sarcasm.

I start to wonder what the scientists were doing.
Eh wait, I think that sentence should be "I start to wonder what Win Zee's brain is doing most of the time."
Uhmm what I wanted to say.
Today we went to the library. Ooh my first trip!
It was huge, oh yeah, really huge. No sarcasm intended. But fiction so little la.
Literally a Pusat Sumber.
And then us girls who sat at the same table started to talk about who is the cutest guy in class.
(No we didn't participate, just listening. And laughing. And discussing. Blahs, lol.)
They said it was this guy, and then we were like uhhhhh. Cuz I mean there aren't any in our class. Or in form 6, for that matter.
Oops.
Relatively, well, yeah, he is the cutest.
Relatively.
Pathetic word. I know. What to do. *shrugs*

The official barang larangan none of us care to not to bring.
I think guys in CHS are really friendly lor.
Though I think the not-so-friendly-ones have gone to college, the more banana ones. It is possible, cuz quite a percentage of the lower forms speak in English, some even speak Mandarin like a banana OMG.
So right we were doing this, uhmm, research for the HELP Psychology Challenge at the library today.
I think Psychology is a cruel course.
Poor, poor monkeys.
So I printed out the requirements for the essay writing on a piece of rough paper, more exactly behind the draft of my pretty pretty programme note.
So ZH took the paper from me. Oh wait he didn't return to me... hahaha.
And then he came to us.
The guys sat quite far. I have a feeling they're shy, LAWLS. Who knows what they were talking about, probably who is the cutest/sexies/prettiest girl in class, hahahaha. Mmmm, wait I think they do not consider girls as... girls. More like competitors. Hahaha.
Ok sorrs.

The 2nd official barang larangan none of us care to not to bring.
Yes, I bring it to school, sometimes, hehehe.
So right ZH approached me and asked 你考到第几了 and then I was like huh cuz I don't understand what he meant cuz that was precisely how he asked. And apparently he was asking about my piano grade.
Aiyo paiseh la, I don't play very well, nor do I sing very well :)
So sweet la! :)
Man, I could've fall in love with all the sweet guys in my class.
I have a weakness for sucrose. Yes,
even sucrose.
God knows what I'll do when I'm facing fructose... probably kneel on the floor and hang on to his feet, hahahaha.
I went to the counselling room and asked about the PRS club, in English. I, eh, actually forgot that they can speak Mandarin. It was only after the afternoon sessions looked at each other that I realize they are probably more fluent in Mandarin than in English, hahahaha.
Sorrs sorrs, it's the DJ culture.

This is what you get when you put Win Zee in an enclosed vessel with a lousy digital camera, a hot sun, a boring Chemistry/Biology/Maths book, and, uh, random things.
QX is like also, uhmm, tak tau macam mana nak cakap.
I have a feeling my sister can hang out with him.
I'm not talking about his mentality age k! It's just his personality I think, LAWLS.
We call monitor KT and assistant monitor PKT.
Oh last night I received this SMS from my ex-colleague. He's really weird wan la so nothing much.
AND THEN THE LAST MESSAGE I RECEIVED WAS SO LAUGHABLE MAN.
I was folding my letter to one of my Angel (will explain in the future, if things get interesting... though probably it won't) blankly. I just blanked out... like usual. Lawls.
And then when I read that message I was laughing silently and WTF-ing.
(Oooh, if Schwann Cell knows I swear...)
I mean, it's SO out of the world.
HAHAHAHA.
To-do: Reorganize my tags.