>> Sunday, 1 June 2008
Cat and Mouse, The Red Jumpsuit Apparatus

It's the first day of the second half of 2008.

My waistline is 3 inches away from my ideal number.
Mmmmm.

Owhkay now a summary on my working experience :)


You vow to be a better citizen.

You vow to be a better driver (especially when you walk to work).

You vow to be a better parent.

You become more outgoing. Or at least sociable.

You are surprised how dramatic life can be.

You realize if you do a great job, Boss belanja makan :D

Boss is actually not scary.

You vow not to be kiamsiap, like, not obsessed over 2% more discount.

You have better financial management. (Aka kiamsiap.)

You vow not to talk too loud.

I've become Miss Ole' Grumpy.

My Cantonese still sucks.

Old people are sour/salty. Literally.

My English has improved in WORK, not in SCHOOL. How ironic!

I realize although dresses, necklaces, nail polish, mascara, bags are pretty pretty, I'm actually a T-shirt-and-jeans person :)

I've become more confident / less self-conscious. Seriously la!

You realize mommy's cooking is THE BEST.

You appreciate your family more. Seriously. (Aiyo so cliché!)

You freaking lose hope in humanity.
Therefore, my advice is,
APPRECIATE SCHOOL LA.
Mommy says I'm maturer! XD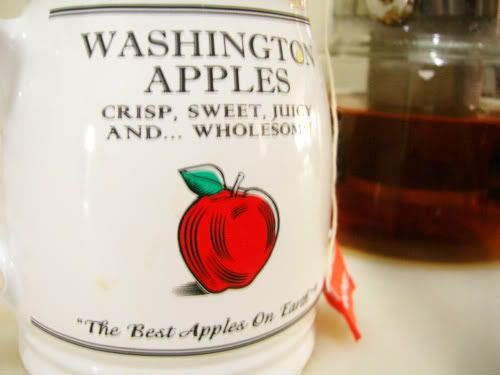 American apple mug. I love it to bits.
I LOVE
Ah Long Pte Ltd
! Ji hao xiao yi xia de lorh!
I watched
Switched!
on AEC, and I TOTALLY love Shaun Chen (陈泓宇). He's, surprisingly, a Malaysian. He starred in
Holland V
but his voice was dubbed, but in this series it's his voice! :D
In the last episode, Shaun and Fann Wong both went to the lake where they first met as kids. Shaun fell into the lake and pura-pura drown, and Fann reached to him with a stick, but he pulled her down instead. Mana tau it was actually very shallow. And when Shaun stood up from the lake right, I drew a sharp, deep breath in.
OMG.
DAMN SEXY MY GOODNESS.
His gaze and the sheer-ness of his blouse.
Teehee :P
And Fann Wong accepted his proposal, blablabla, so damn romantic SO DAMN SEXY.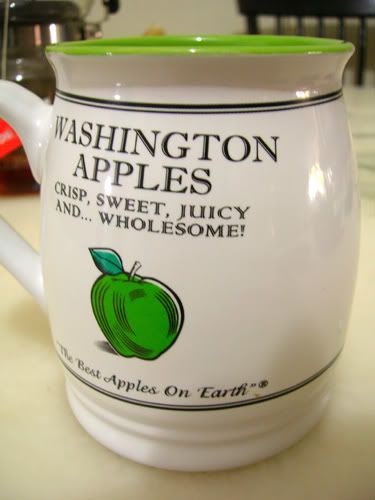 But I love this mug better!
My exam is in 12 days.
F*ck you, exams.
My fingers are betraying me.
F*ck you, fingers.
I WANNA DIE LAAAA HELP ME :(
Every time I think of the exam I'll shudder and then I'll feel an urge to cry.
I hate crying. I'm egoistic la k.
I think I'll wear sexy uniform and seduce the examiner.
True self confidence comes from an attitude where you promise yourself, no matter how difficult the problem life throws at you, that you will try as hard as you can to help yourself. You acknowledge that sometimes your efforts to help yourself may not result in success, as often being properly rewarded is not in your control.
-- Prof. Raj Persaud
I'll persevere.
Jia you jia you jia you.