>> Friday, 6 June 2008
High Hopes in Velvet Ropes, The Cab


Mmmm, I was missing and nobody bothered to ask why. Sigh. I think I'll retreat from the internet world.
Anyways!
I'm watching
Royal Tramp
right now, and Xiao Gui Zi / Wei Xiao Bao (Huang Xiao Ming) IS DAMN SEXY LAR. And so mischievous!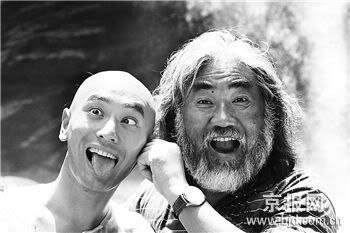 Full of child-like wonders.
I think I have a fetish for gays.
Anyways I was at Cameron Highlands for 2 days. Nothing fancy, but I find it LOLable.
And it's SO freaking cold up there! O_O Didn't the temperature (along with the petrol) rise?
I think my mom bought like billions of ringgit of vegetables. And we bought 3 cute little cacti! :3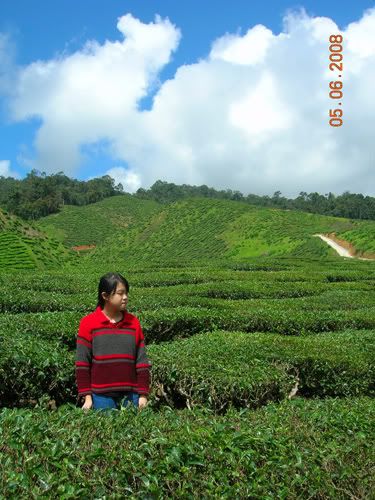 Candid. That's not me. I find it really pretty, I think it's the red of the sweater. Oh and it was blaring hot and cold at the same time!
Agung/Agong is talking in front of the TV right now, dunno about what. Pardon my bad mouth, but he looks like a zombie reciting words at the screen.
Mom bought RM54.80 worth of ingredients to make zong zi. In English we call it seeds, the kind we use to put in the soil, let it out in the sun and rain and voila, something green pops up.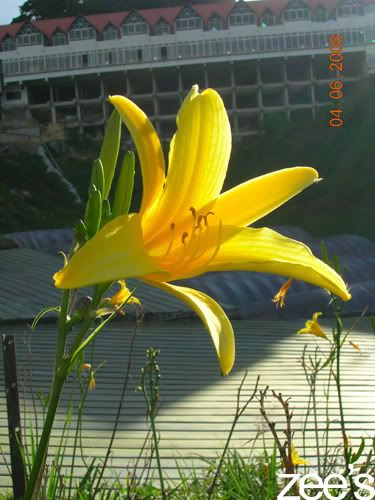 I think you call this
gladiolus
. And my mom bought the seeds. For cooking. Poor flower.
I decided not to lust over iPod Shuffle. Go me!
Oh and we got a new printer, yay! A 4-in-1 Canon MX318 office printer. It's bulky and ugly but it prints pretty! And I think I love The Cab.
Stupid mosquitoes. I'm gonna cut my overgrown fringe tomorrow.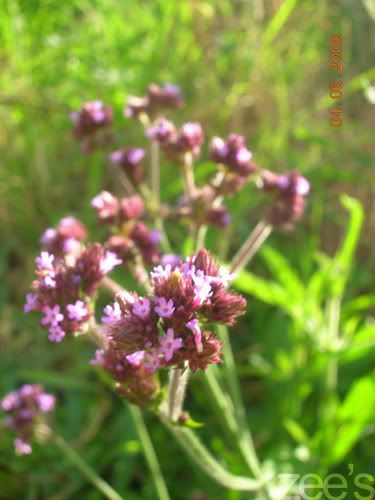 I was practicing my close-up shooting. Not up to whatever quality, but I take it as a great improvement! Someday, I'm gonna save enough to buy a cool digital SLR camera. It's the fashion statement of Tinseltown.
I realize I read everywhere else except at home. Yes I even read in the car. I think I love Daniel Brown, I'm still deciding. He's "quite tall, very slim, hair brown on the way to fair. The kind of hair that gets streaked by the sun. And eyes that change depending on the light. Green almost, indoors, but then blue outside."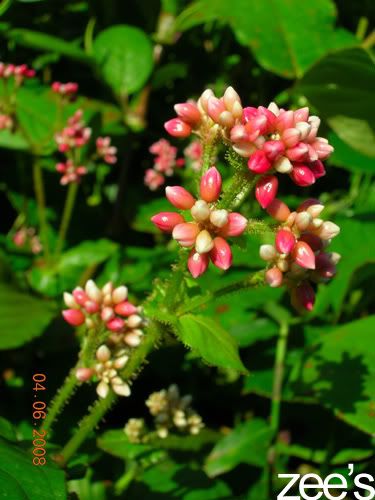 How handsome! He was maimed, really young, A BRITISH, has a deep voice, has an almost-insane mind, and he came back from the war.
I find war stories fascinating. Romantic, even. I can now imagine that the 2007 Jo would start her story on bringing back a haunted man from his mind in wars.
Of course, I don't know how's 2008 Jo already; probably got a bf already ;)
I'm attracted to colours. I love colours. I'm like Bubbles, but I don't have a whiny voice like hers. It's annoying. But I love her Octee! Mmmm, no, I don't like octopus.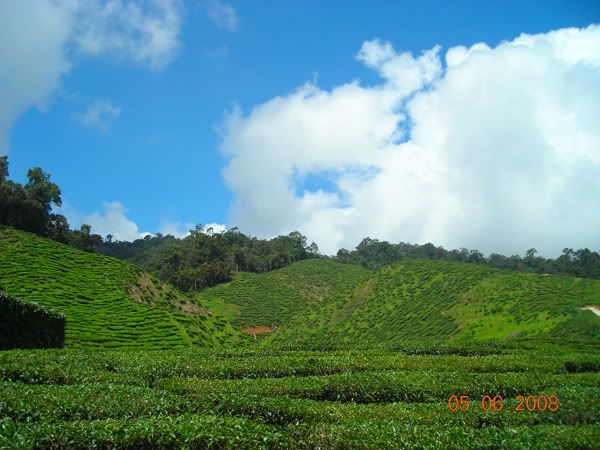 Tea plantation, I forgot which one but definitely not Boh punya.
Speaking of whiny, I
have
to say something about Rihanna's voice.
SO WHINY LA.
I like Marié Digby's version of
Umbrella
.
I think we (whoever it is) should plan a trip to Taman Negara, or Fraser's Hill, or Bukit Tinggi, somewhere. Come on la, Malaysia not that bad k, besides the potatoes head and bad education system and- okay Malaysia is bad hahaha. :X :P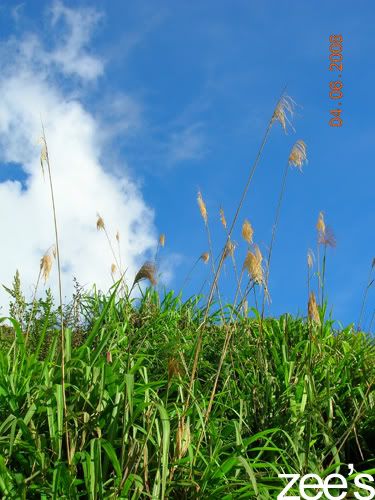 Yes. There is such a sky in Cameron Highlands. I sorta couldn't get used to KL's polluted foggy air for quite a long while.
Of course, Rihanna's much hotter. But Marié's got really pretty and delicate features. I like.
When I go to the plastic surgeon I'll bring along her picture and point at her to Dr. Moo Moo Shake (eh, wrong doctor), and say, "Doktor, I want her eyes her nose her mouth her teeth." And then he'll reply, "Ala, pergi buat mask dia dan pasang la, jimat wang."
I'M GOING TO STARVE! SOON!