>> Wednesday, 7 May 2008
There's A Class For This, Cute is What We Aim For

I'm lipsyncing every of CiWWAF's songs. SO ADDICTIVE X3
And I've been singing The Red Jumpsuit Apparatus's Your Guardian Angel these two days :)
Aiks, I'm out of tea already.
I've drank like two pots lol.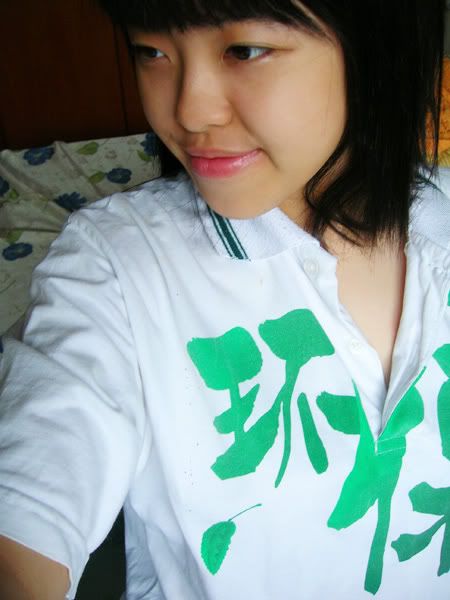 I'm not recyclable ;)
That's my man's shirt. OMG.
*cough*
My brother has grown so much (horizontally) he couldn't fit into this shirt, so he passed
down
up to me. If I were to be a little more petite it would be a mini dress with 3/4 sleeves.
(Oh, yes, I cut my fringe, lala, whatever :D)
He's taller than me already, and I think his voice is getting lower.
A Big Sister's Wish for Her "Beloved" Brother:
1. Grow taller than dad
2. At least 177cm / a head taller than me.
3. Be athletic, or just DON'T BE FAT.
4. Don't smoke.
5. Don't swear too much.
7. Has soft hair.
8. NO DUCKY VOICE PLEASEEEEE.
And again, I don't do "brotherly-sisterly" love. Ahem.
I always have this desire (HMMMM) to bring him out walk around like normal and then meet up with friends and then they'll go like "Your boyfriend ah? So cute weih!" Which will only happen when he doesn't look like me... and he does.
Hmph! :P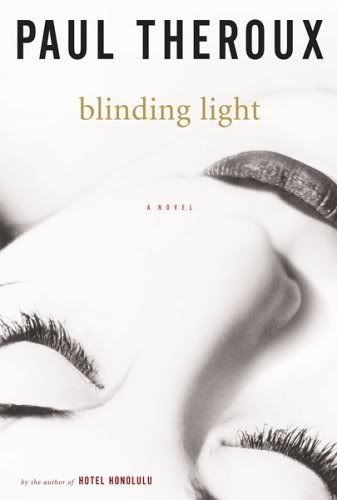 -SPOILERS AHEAD-
I
finally
read finish
Blinding Light
by Paul Theroux, after 1 or 2 months. It was difficult, as he uses difficult words and long sentence and pretty descriptions. Oh, and not to mention all the, eh, disturbing? sex throughout the whole book.
Not delicious at all, sex. DO NOT, I repeat,
DO NOT
read while you're eating. Pretty much you'll not want to drink anything.
*cough*
I didn't understand the last two paragraphs of the book. I read a few times and still I didn't get it. I'm not sure whether Slade Steadman actually died or he regained his sight, I don't know. Frustrating!
Oh, his girlfriend is BISEXUAL. OMG.
I especially love the description of their imagination of the Ecuador forest, when they were blindfolded and was being sent to a tribal village. Oh, gosh, I could imagine all the images and sounds around me,
just like heaven
, beautiful.
I think you could call this book an erotica?
It's just a coincidence that I seem to be reading eroticas, Waning. Don't get jealous ;D
Practice with vocalist yesterday went well :) Still, stressful.
PIANO EXAM OMG. Anyways I'm really proud that my pieces have improved, even if it means only slightly.
I'll have to calm myself down and cheer myself up in whatever ways I can, no matter how pathetic -.-;;
I'm sent to SMKBU for form 6. Mmmmm. Now where on earth is this school why does this school even have form 6. If I can't get transferred I might have to study A-levels...
NOOOOOOOO MY DREAM OF STUDYING IN A UNIVERSITY CANNOT BE RUINED NO NO NO.
If You Don't Don't
, Jimmy Eat World