>> Thursday, 13 March 2008
Simon, Lifehouse

The day of SPM results is for hot people to show off their burning heat.

Really I have nothing to say about my results... Over my expectations, am pretty satisfied with it, especially when you're one who studies last minute and relies heavily (and cynically) on tips. Like me.

Ok la, not semua satu, ada dua dan tiga juga la.

Pn. Lim was disturbing. I think she enjoys torturing her students. "Ah. Win Zee. One, two, three, four, five, six, seven, eight, nine. Congratulations. Sign. Write in that form."

Hooi Teng, Waning, Jo and I went to KL for power walking. It was kinda like a dream come true, as we all agreed that one day we would walk at KL someday, inspired by a Burger King outlet we (at least me) saw last year. (Marcus/Monkey (whichever true) is cute :P) I don't know what shopping complexes we entered; it doesn't matter anyway, since all we did was walking, talking, cam-ing, walking, talking, cam-ing.

The trip back home was tiring. Jo and I waited for 4-5 trains but we couldn't squeeze in, though Hooi Teng did manage to. We decided to go to Bukit Nanas instead and then switch to Kelana Jaya line at Dang Wangi, and we stood the whole way back home. Gawd I miss my bed.

Lessons learned: Memorize the rail transportation map. Take the taxi in daylight whenever possible, especially when going to somewhere else not in PJ.

And now I shall let the (not so clear) photos do the talking :) Rest of 'em can be found in this album.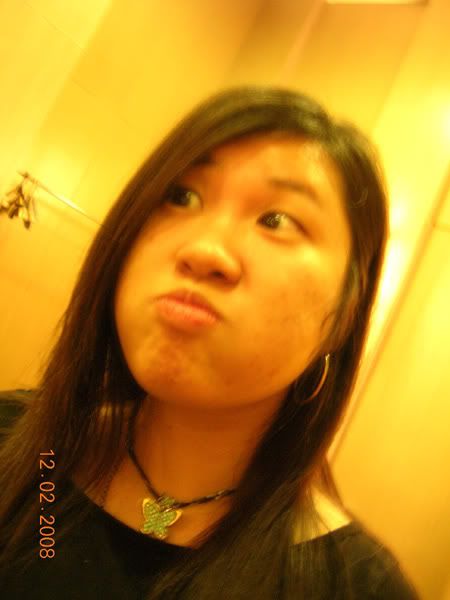 I really don't know what she was thinking right then.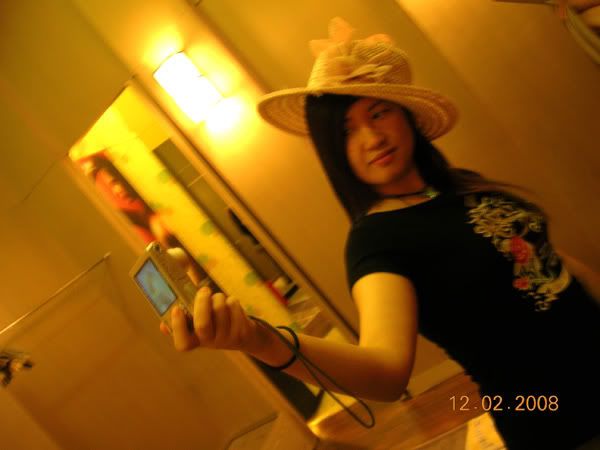 Waning cam-whoring with her camera. I think this is exceptionally sexy ;)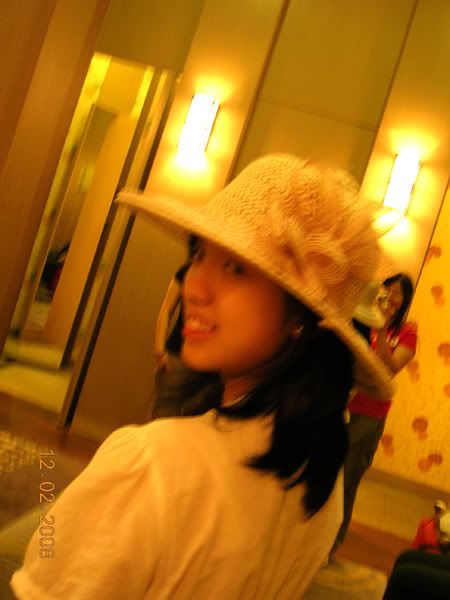 'Hui mou yi xiao'. Jo look very cute and feminine and PRETTY. DJ guys don't appreciate girls who are pretty, cute and not-so-popular.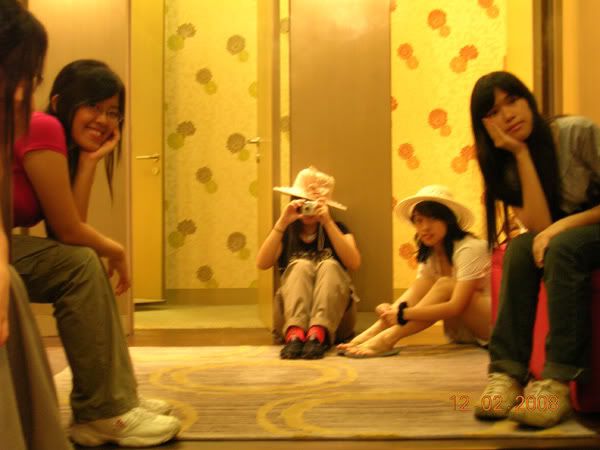 I LURVE THIS GROUP PHOTO (but we have to sacrifice the photographer). Sorry la!
And now, you shall allow me to tell you a sweet little story before you proceed to the next (and the last) photo :)
Once upon a time, in a charming little town, a shy artist fell in love with the mayor's beautiful daughter. He didn't dare to confess, for fear that she would despise him, not knowing that she already noticed and fell in love with him.

The news of her leaving shook the town. One night in a farewell ball the mayor held for his precious daughter where every resident was invited, he spotted her. She saw him, in his best and only suit that was stained in white paint. Their gazes met, and lingered on... until he braved himself and walked towards the elegant girl in black.

"May I have a dance with you, my lady?" he asked in a quivering voice.

She gave him a nervous and assuring smile, a smile so enchanting, he would have kissed her right there and then.

And that was what he did.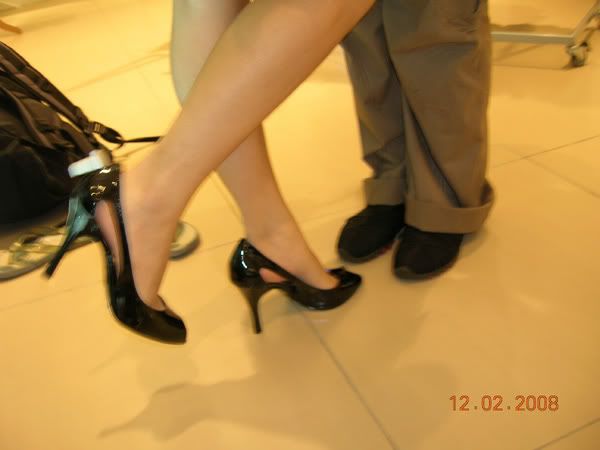 Hot sexy shoes taken from Topshop. The guy didn't allow us to take photos :( We could've taken more convincing photos but, oh well :)
Well, he IS a
shy
boy, that explains his/her legs... he didn't know how to stand properly! (OMGGG THE SHOES DAMN SEXY LAAA.)
Waning's result slip and cert and green book is with Jo; Jo's green book is with me. That pretty much give us another excuse to gather around :)
Kudos.
(Eh, just realized the date for the photos was set wrongly. Sheesh -.-;;)