>> Saturday, 3 November 2007
(This is the 400th post! And the post title is so emo that I amused myself xD)

I'll TRY to write in perfect Shakespeare language so that this whole post will seem more emotional and neater, nyaha. I am not gonna upload the photos I took though, am too lazy to resize them. Patience is a virtue!

Photos I bothered to resize and upload.


Yen Pin! I've known her since form 1, and I still remember what are the first words I spoke to her: What's the Kesatria teacher? I don't know how we actually became friends, since I sat with Kah Shin and she (and Pei Fang) was two rows in front of us. She had long hair and looked just so beautiful! And I remember asking her "Does Puay Chai produces leng luis?" because Mian Mian was from Puay Chai too =P
Pei Fang! Like Yen Pin, I've known her since form 1, and that time she still had her glasses, now I wonder how she would look like with it =P She can be really paranoid (remember when we went to Yen Pin's condominium and we went for a swim? You were afraid the bathroom is haunted or has rapists and wanted me to accompany you!). We had a really stupid argument and come to think of it it's really nothing to be fought about! She once said she would straighten my hair for my birthday =P Damn lurve you, even though we've grown further apart! *hugssss*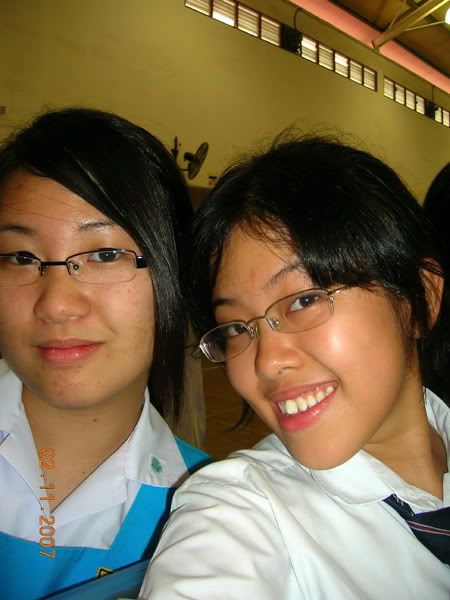 Waning
Wan Ying dearest :) Well I've known you through Vi Iyin, where you still have your short curly hair and orange. We become closer when we were in form 3, and yes, Wan Ying, I KNOW YOU'VE HATED ME but somehow I don't seem to bother about it... And you knew my ahem secret, thank goodness you didn't laugh at me or play with my emotions, and I totally love you for that! I got your I-don't-listen-to-radios from you, are you proud? xD
Wen Jo, the sweet little flower heart =D We were in the same class during form 4! And I don't remember how we actually became friends, was it through Wan Ying? xD But anyway, you are just soooo gossipy, I love the one about Dr. Moo Moo Shake is a gay! xD You can be really really emotional and sentimental, and awwww don't cry when you're reading this post k? xD She can be soooo flirtatious when she put down her hair! SERIOUSLY. So go flirt with her, make her feel flattered!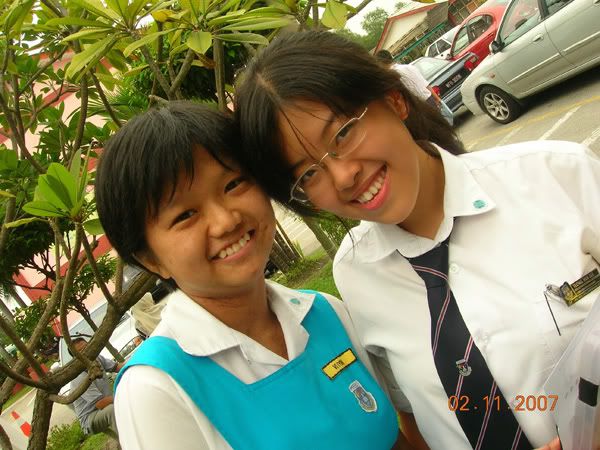 Vi Iyin! I've known you since standard 6 right? =D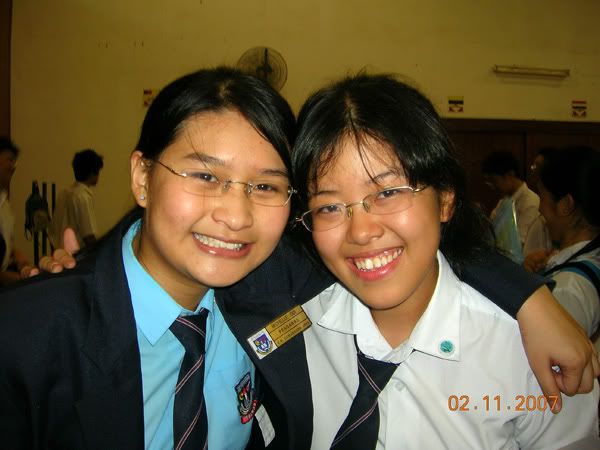 Michelle! I've known her since standard 3, if I'm not wrong. Our mothers were university friends, and maybe still friends now? That was just totally so cool =D And I can't believe we're speaking in English instead of Chinese! I totally forget you can speak Chinese xD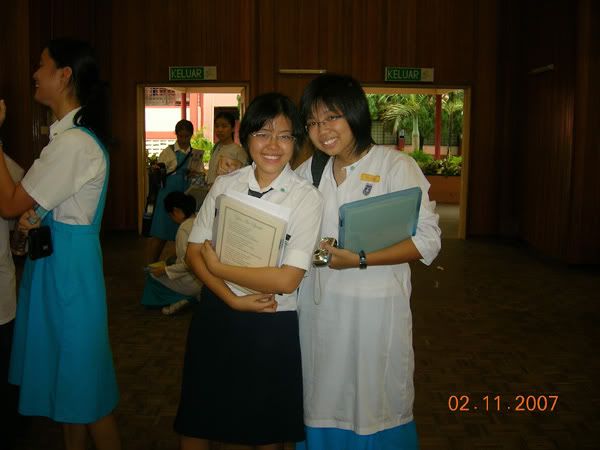 Shi Ching! I can't believe she still remembers me... *sobs*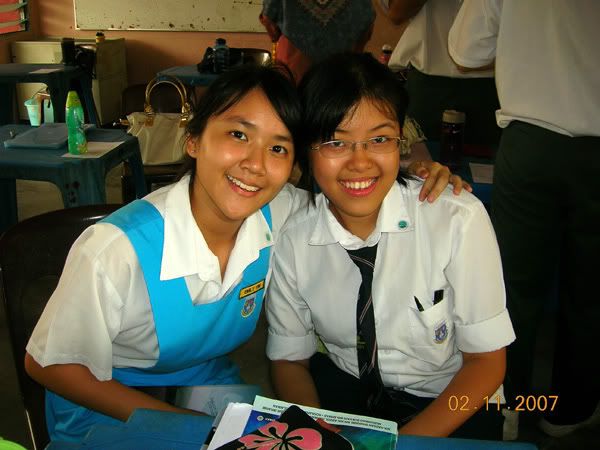 Emily, my partner for the rest of the year after Joanne darling left!



Xinhui, my really helpful 06/07 ketua librarian =D



The (actually not so guai but really very noisy) Balau cliquey! (L-R) Jo, me, Sher Min, Wan Ying, Chuu Khai, Shu Zhen, Poh Hui. MIA: Qinmei, Si Hui



The canteen groupie! (L-R) Wai Fong, Rene, Jamie, Zhe Jiun, Yen Pin, me, Jackie, Choi Min, Sook Shiang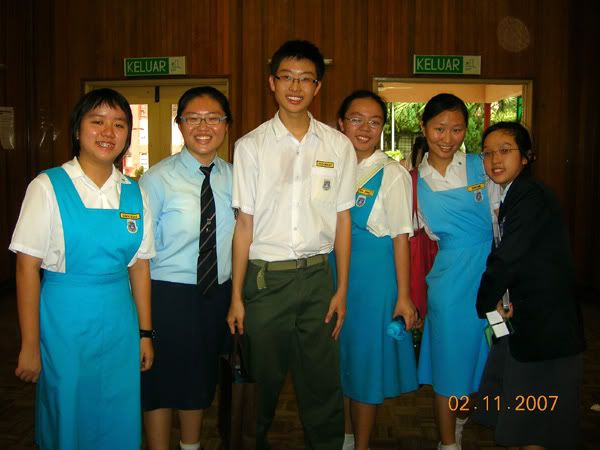 Voo Mun Kit, sorrs sorrs, I totally love yous, our beloved pengerusis :) (L-R) Si Hui, Qinmei, Mun Kit, Shu Zhen, Sher Min, Jo



Our very own beatboxer and Elvis Presley, Yu Szen :) (Was I tip-toeing?) (L-R) Yu Szen, Me, Wan Ying



As far as Biology is concerned, we love Pn. Lim! (L-R, clockwise) Poh Hui, Shu Zhen, Si Hui, Qinmei, Sher Min, Jo, Pn. Lim, me, Wan Ying



Our beloved sarcasm, Pn. Tan CK whose son's name is Wei Jin and oh so sweet!

And last, but not least,



I love you. We'll meet again, someday, somehow.


Don't cry because it ended; smile because it happened
(See you again in 9 days!)