>> Sunday, 2 September 2007
Today (or yesterday) afternoon I was supposed to be in 1 Utama watching The Invasion/Fracture (since Jo didn't want to watch Rogue Assassin and Perfect Stranger, since she thinks The Star's movie ratings are reliable) and later window shopping at Times bookstore/MPH and see me drooling over another soul mate but no. I wasn't in 1U. Cuz Jo told Waning that I can't go, which I only said that I MIGHT not be going. Or maybe she told her too early.
And mommy actually allowed! See, Jo and Waning. Don't make assumptions. Ok la I shouldn't make assumptions also.

And Waning is so... desperate to go out. And so desperate to go to school. Who in the right mind will go to school?! (And omg I discovered that Gerak Gempur does not includes Sejarah. DIE.)
And then I realized I'm something like my dad - I can have nice alone time.
I love alone times. No one's bothering you, you doing your own things, going on your own pace. Although sometimes it's boring haha.
The TV is IRRITATING. Especially when bro is out tuition and we were all having our own sweet time and then he shouted "OPEN THE DOOR!!!!" and ringing the doorbell gazillion times and then the minute he stepped in the door he switched on the TV.
FREAKIN' ANNOYING TV. BREAKING ALL SILENCE AND TRANQUILTY.

So, since I was bored and couldn't find anything to do, I tried to find SOMETHING to do. Well, did a chapter on one of my new fictions, read fragments of a lame love story (American and English in a Spanish-speaking country is interesting xD), stare at Biology reference book, doodled on waste paper, played a little of O2Jam, listening to mommy and cousin sis's Teochew, which they find my able-to-understand-but-unable-to-speak condition amusing, showing cousin sis my cream puff cousin sis's photos, and... went to Guardian and grocery store to get some stuff.
Yes, I'm that bored.
So I spotted a book on the stool (we misplace EVERYTHING) - Of Fishes and Bicycle by Winnie Yong. A lady, wearing a fuchsia, deep V dress was holding a green, dead fish, thinking in fuchsia thought bubble, "Do women need men like fishes need bicycles?" Mmm, interesting. Must be another Singaporean. So, yeah, I read it.
Dedication: For anyone who's ever had a...
(a) brush with
(b) crush on
(c) fantasy about...
the opposite sex
Kimchi was dumped by Michael through e-mail. How pathetic is that. She worked in
allcom.com
as a sales executive who sold banner ads. Her mother was waiting for her to grab a guy. She met up with 42-year-old lawyer Derrick Lau, who turned out to be timid, shy, indecisive, quiet, and asthmatic. Then her fat cousin who got married at the age of 20 with a skinny banker introduced her to a uhmm "rich, good-looking man" Bronson Leonard Tan who turned out to be impatient and rude and A PIRATED CD SELLER (and he's so snobbish eek). Kimchi shared the same cubicle with Eileen, whom she hated so much, who has a brother who was going to be 27 in eight months who works in a publishing house and writes poems during his free time and plays squash and is funny and sarcastic and
childish
. Or child-like, I don't know which haha.
Which girl won't fall for a guy who writes? Poetry, even! xD
A Malaysian chick lit. Or maybe just half chick lit, since there's absolutely nothing about sex. Or maybe there is one...
His fingers were long and slim, topped with nearly trimmed, clean fingernails. She noticed how expertly his hands moved as he shuffled through the papers. She liked the way he appeared to know precisely what he was doing, what he was looking for. He looked so... experienced.
...
"I can't find it," he said. Maybe he wasn't so experienced after all.
Oh, and btw, chick lit is the last thing in my reading list. So, yes, I'm that bored.
So yesterday I watched
Perfume: The Story of a Murderer
.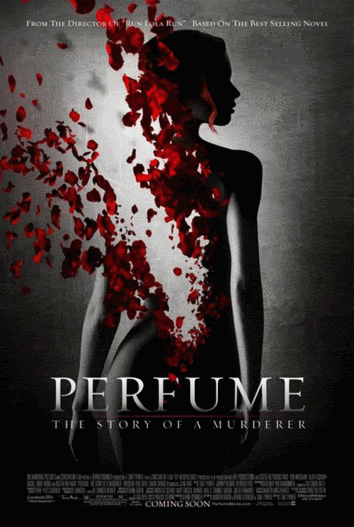 I bet that in Jean-Baptiste Grenouille's lifetime he had NEVER spoke more than ten lines. Geniuses always end up in a sadistic way of dying. Sighh.
And I wonder how does the perfume actually smells like =D And I wonder how I actually smell like HAHA.
Oh I didn't tell you me getting harassed. So a few days ago I was online. And this Mexican or whatever nationality he is came up. Blablabla he asked me whether to accept invitation for his webcam. I hesitated. But still clicked on 'accept', PRAYING. But my prayers aren't answered. Maybe I should be more devoted. But anyways yes nobody answered my prayers. Guess what came out?
A STUPID THICK BROWN LOOOOONG YUCKY EEEEEEEEEEEEEEEEEEEEEEWWWWWWWWWW DISGUSTING THING. HIS F*CKING COCK. LIKE I'M INTERESTED. WHAT THE F*CK WHAT THE F*CK WHAT THE F*CK WHAT THE F*CK WHAT THE F*CK WHAT THE F*CK WHAT THE F*CK WHAT THE F*CK WHAT THE F*CK WHAT THE F*CK WHAT THE F*CK WHAT THE F*CK WHAT THE F*CK WHAT THE F*CK WHAT THE F*CK WHAT THE F*CK WHAT THE F*CK WHAT THE F*CK WHAT THE F*CK WHAT THE F*CK.
And it was that moment that I decided to
delete and block him
be a nun
. Or an old maid, if you prefer to call me that LOL. Jo and Waning, you don't understand my misery. (OK LA STOP EXAGGERATING) I bet if you were me you would want to be a nun too.
I seriously cannot imagine la all those sex-craze women/prostitutes actually like/forced to like
that yucky thing
eew banana looks more handsome than that.
Hmm, I think I'll REALLY be an old virgin.
Oh and I'm gonna tell you a story about that guy who called me, remember? The guy who asked about masturbation as if he didn't know anything? xD So in one of his SMSes he asked me "have you taken bath?" Ooh definitely up to no good. Ok so I replied "No" since I really haven't taken my bath yet and was still reading the newspaper. Then he replied "sthsthdontrmb If I'm with you now, I'll ask you to go take bath and if you don't want, I'll take off your clothes one by one, slowly, and then hug you and bath together". And instead of feeling offended I think he's funny. I mean, people usually say "strip you until you're naked" and they don't say "hug you and bath together". I mean, who would
hug
when you're naked and in the bathroom?! Haha I laughed at his naivety like I'm experienced and sophisticated HAHA. I mean, he's so funny. xD
And I found two great winglin sites:
Mémoire Quête
and
Short Stories
.
And one more from FictionPress.com:
Before I Fall
(warning: homosexuality) (the author is a
guy
! can you imagine that? that's so sweet! x3) And this poem,
Don't Take My Sunshine Away
, is dedicated to his girlfriend by her boyfriend. Awwww. I just love cotton candy people.
Ok I'll end this post nicely and decently:
The brain is a wonderful little organ. It starts working the moment you get up in the morning and doesn't stop until you get to the office. - Robert Frost.
The magic of first love is our ignorance that it can never end. - Benjamin Disraeli.
And I especially love this one:
To love and be loved is to feel the sun from both sides. - David Viscott
(Hmm I seem to be writing instead of talking in this post. And I'm so bimbo O_O Must stop being a banana.)