>> Friday, 28 September 2007
Currently listening to: Only You - Ayo

School-less day.
Yesterday recess went all over the school (counselling room, pejabat and library only la) for certifying but the morning session teachers all wanted original copies.
And then that afternoon I brought everything to school to let Pn. Ruth the omg-so-nice!-left-handed penyelia petang and she didn't even bother to check all the documents o_O
Got all so sweaty. Bleahh.

Yay, finally I've transferred the photos into the comp.
Ooh, Photobucket's Bulk Uploader is so useful, though slow in my comp, but very useful! Love it la. Save me lots of clickings.

Famine 30: Shrinkened photos, not gonna post everything in this post, so, yeah.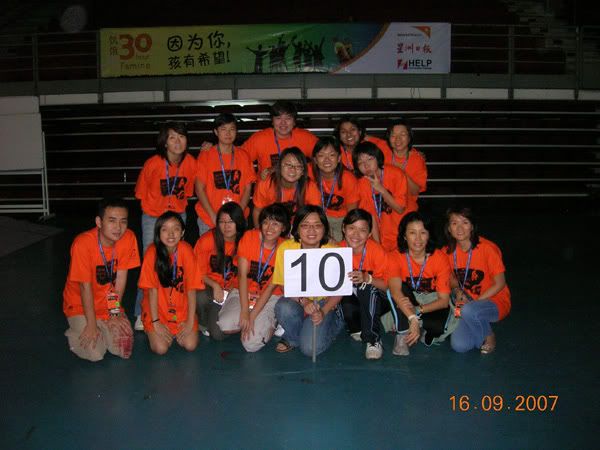 Group 10! Jo 'discovered' a triangle in the group - Kenny (the only guy) likes Gun third from right, lemon leader Kah Peng likes Kenny LOL. I think there's nothing la, but I do discovered something, after a few weeks the camp ;) Horrrrr, Jo~~~



Miss Kah "Lemon" Peng and the 16-year-old pageants. I mean, 17. Jo tried to act either b*tchy or pageant-y lol.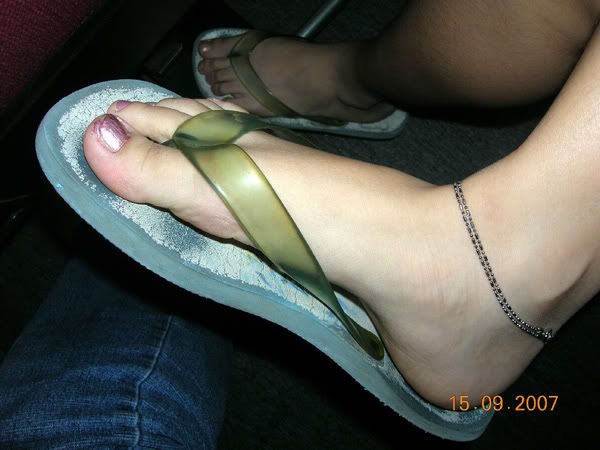 Jo's favourite body part of the days.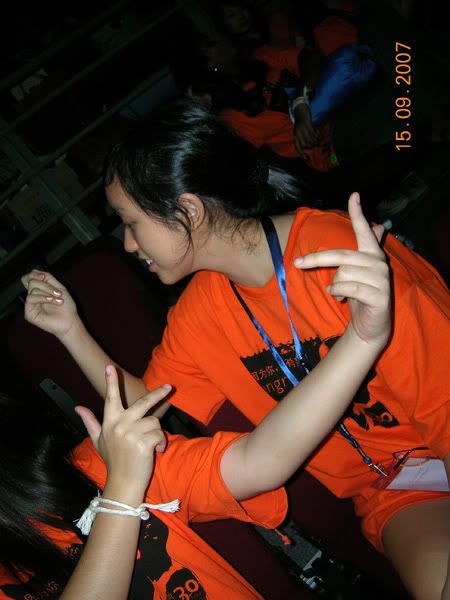 Jo loves her polished nails. Waning's Fleming's Rap. Win Zee's conclusion: The first rappers are physicist. Or Mr. Fleming.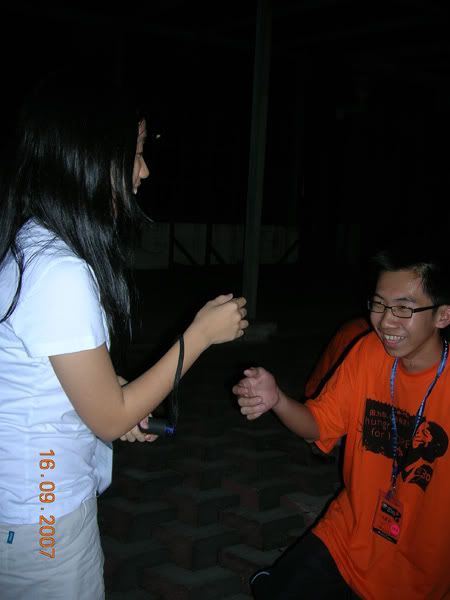 OMG! Some guy from UPM/UKM/UM proposed to her! Win Zee is busy body.
Zee's mini birthday celebration @ La Manila
: same as above.

Banana and choc cake, OMG.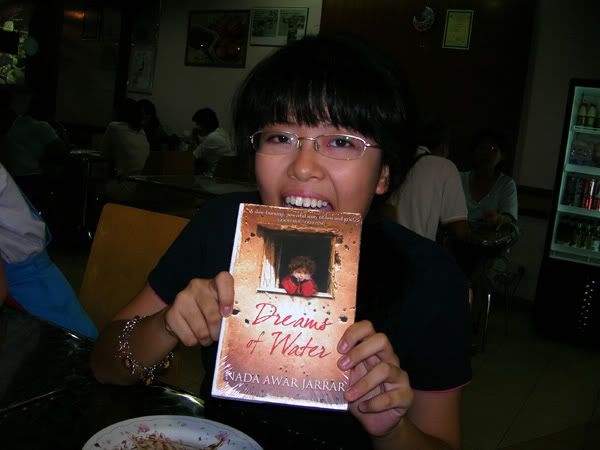 Eating her (surprisingly thin and hole-y) 2nd soulmate. Yummy. Waning say this looks like a frog. See the charm bracelet? Sher Min gave it to me! I LURRRRVE charm bracelet. And I suddenly have I-dunno-how-many second true loves in a day lol.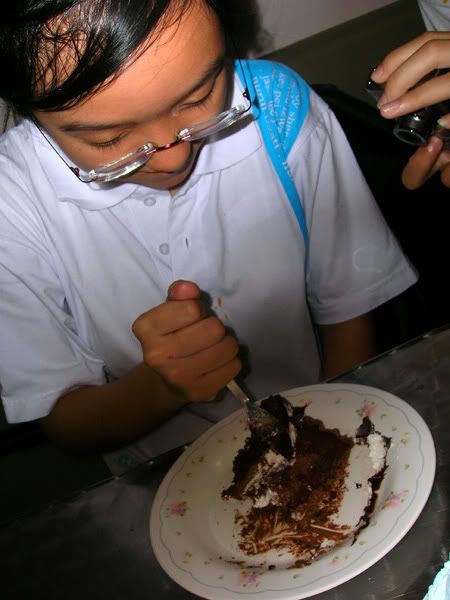 Jo killing the cake. Cake Protection Act 2007!



Yummy.
Went to buy Durian Mousse cake in Cake Sense. The guy asked, 'how many candles?' I answered, '17.' No, wait, that sounds weird... 'No, no, no! 16.'
I wanna work in Cake Sense! I mean,
all the cakes...
Esther dearest called! xD
And I had an extremely sweet dream yesterday afternoon during the 2 hours deadly nap. Not as extreme as Jo's la. I was shi zhi jin kou-ing with some guy. Maybe I know him, maybe I've seen him, dunno la. But looks very familiar.
Fair, wear specs, speaks Chinese I think, 170cm++ in height, looks very intellectual, a little athletic, have a smile like Mah Jun Xiang's (HAHA I can't believe I still remember him; I don't and didn't like him la! He just look cute xP) or our Malaysian astronaut, the Dr. Dentist. HANDSOME SEXY SMILE. Shy.
So Mr. Handsome Sexy Smile/HSS is definitely not V. Mun Kit (more intellectual and a little more athletic), definitely not MJX (shorter), definitely not Dr. Dentist la of course.
So I was walking in some old building alone. I think it's like some sort of camp cuz it seems that all of us were wearing the same white Polo T-shirt. The building was a little crumpled. And then I saw HSS. Dunno whether I talked to him or not, and then I took his arm/hand. Then my hand slid to his and I/he held his/my hand. Like this: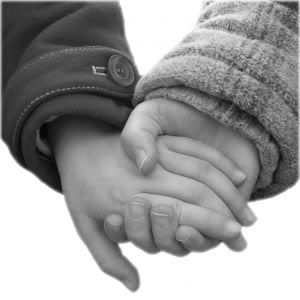 Then I felt a little uncomfortable, so I ended up shi zhi jin kou-ing (ah, it's called
Intertwined Fingers Hand Hold
) with him. (In reality I really feel more comfortable holding hands like his.) Like this: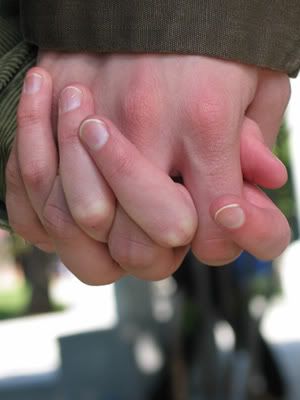 I think he put my hand on my waist. I wanted to put mine on his, cuz the free hand seems very disturbing but didn't, forgot why. (Later thinking about it how can we actually put our hands on each other's waist when we're already holding hands? o_O)
I have no amorous (LOL) intentions la! Maybe I was scared or sth and I felt secured with him? Dunno, it was so warm and sweet! I knew he liked me. He seemed shocked when I held his hand like that - he didn't show it, I just knew - and then he liked me LOL. Then I entered an old toilet cuz I thought maybe there would be a stairs that would lead to somewhere. Hmm. We were still holding hands. I touched the ceiling but no stairs. And then that instant I knew - he made no actions btw - that he wanted to close the door and kiss me and ahem make love but I knew he didn't/won't dare to do it to me because he's shy. Awwww.
And then we went out. End of dream cuz mom woke me up -__-;;
You see ah, whenever I dreamed of sex (okay only twice) it NEVER involves anything physical. As in I knew the guy would want to have sex but ended up never have one. Or we had sex but it's like the next day already and I don't know what happened but just that we had sex.
(OMG I just degraded myself into a non-virgin. I'm uhh dreamily not a virgin LOL.)
Strangely, I've never dreamed of being kissed. I mean me, never being kissed in dream, but
SOMEBODY ELSE was kissed
, so passionately, in class, and other people seemed to be ignoring them. Horrrr. I felt so malu in the dream cuz I dunno where to look lol.
(Btw, go google 'holding hands', seriously nice pics! xD)