>> Wednesday, 22 August 2007
These days, I'm online. Late at night. Chatting. Blogging. Boring.
ALL FOR THE WRONG REASON.
I have serious Emotion Disorganized Syndrome.
Did I tell you about this chromosomal-mutated syndrome which will affect your hormone levels? Oh yes I did tell you.
(Don't have to check wikipedia. I'm your walking wikipedia.)

Anyways.
Met with a uhmm KID. From Malta, which is situated between Libya and Sicily. I don't know where's Libya but I know it's near Italy, cuz Sicily belongs to Italy xD He's 16, and is so cute, both the looks and the personality, like a kid la, so cute omg! xD Cute cuz he's not dirty not horny but just like a kid who knows what is MSN Messenger. I don't know who added who but that doesn't matter la. So yeah he's 16 and stays in a flat lol cuz he asked me for the description of my house. I was insecure but still roughly gave him the description. I mean, not like he'll come to Malaysia, to Selangor, to Petaling Jaya, to Taman Megah, to Jalan SS24/XX, to no.XX. He LURRRRRRRVES drawing and is good in it too! He loves cats and draws cats. SO realistic. He said he draws animals, abstract, and something I don't remember. I asked him how abstract is abstract, he says it's pretty easy to know what he's drawing lol. I asked him whether he thought of having a gallery of his own. He said if he kena lottery or get a sponsor but impossible cuz people don't appreciate arts. I don't know what does Malta people called, Maltan, Maltian, MALTESE?! So I just call them "people over there".

I can't believe I actually prepared myself, when it may be just a joke. Gah.

SOMEONE said SOMEBODY had a CLASS barbecue at his place, which is situated behind SOMEONE's house. If it's just birthday party then I don't mind but CLASS PARTY AND WE'RE NOT INVITED?!! Hey, it's a CLASS. Or so SOMEONE says.
Never thought someone in our class, after been through so many things, could be so cruel.
We had a sneak preview of life already. Great. We mature too fast.

I've handwritten an essay. Three and a half pages. I'm cruel, too.

Random trivia #1: Sofia is the capital of Bulgaria.
Random trivia #2: (for those ignorant ones) My nickname is Sofia.
DAMN COOL.

I can't believe I downloaded all of Michael Buble's albums. IsoHunt rox. His voice is more, umm, how do you say it, firm? as years go by. His voice in Totally Buble album is quite soft, weak, compare to Call Me Irresponsible. And sounds not so deep. I think our hormones are weird. And sounds more British. Canadians usually speak like American. I wonder if Michael Buble speaks French xD
But still. He's so sexayy xD So much more sexier than your Carlos Marin, Waning dear. He's OLD and MARRIED xD
(Not like anyone of us wanna get married with Carlos and Michael. I mean, THEY'RE SO OLD. And it's paedophiling.)
"...a Me and Mrs. You" - Me and Mrs. You, Totally Buble

My EDS is sooooooooo serious, worse than Jo -__-;; I need anti-psychotic drugs. Prozac maybe. The only name I remember lol.
Speaking of Prozac, I skipped Chemistry tuition yesterday cuz I totally forgotten about it.
Oh, and speaking of that, I just saw my soul mate in Times bookstore.


Dreams of Water by Nada Awar Jarrar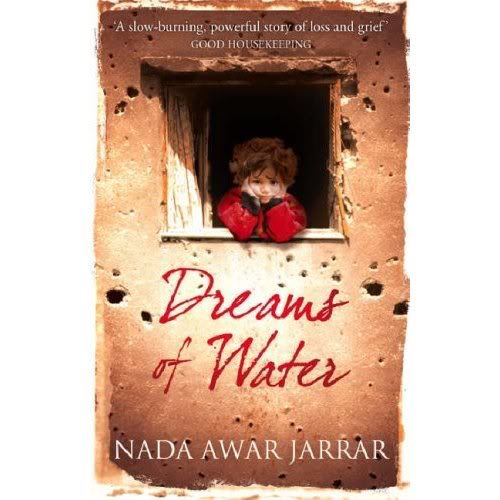 Amazon
only sells £3.99, approximately RM28 no delivery cst, paperback. T___________T Times sells a whopping
RM89.90
, hard cover.
MY TRUE LOVE.
And I heard a mommy scolding her anak not to lie and must ask mommy and ayah's permission to do something xD
You'll be my second true love if you buy for me the book x3