>> Friday, 20 July 2007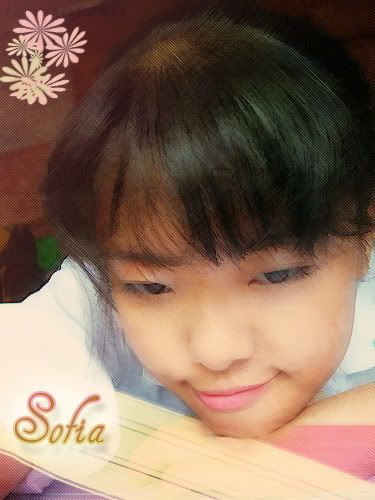 Today is a nice day. =)
Cuz you-know-who is not around! MWAHAHAHA.
And I realized that some guys are just so nice. =)
I wanna go to librarian's "leadership-cum-leisure" camp! On October in PANGKOR THE HEAVENLY HEAVEN. I tell you it's damn unfair x(
Unfair #2 Shawne Kee who is cute and petite has the BEAUTIFUL-EST HAIR.
Some girls are just sooo lucky.
I realized that child-like guys are just sooooo cute. Not childish guys eg. guys who fought for a pencil box during Chemistry. Child-like guys eg. guys who have some child-like ways of doing stuff and saying stuff but actually don't fight for a pencil box during Chemistry. Akaka.
She likes him HAHA that's sooo obvious. Immediately laughs like an idiot when she sees him. Though she always say "why you all always say me and him wan?!" but ask me "eh, he hot or not?" and then "go see if he's here or not." HAHA damn cute la.
Good Morning, Beautiful by Steve Holy is such a sweet and romantic title.

Ah now I'm Sofia. Cuz put Win Zee is weird. I DAMN LOVE THE EFFECT LA! Done in a day.