>> Monday, 27 November 2006
HAPPY almost-sweet 15TH BIRTHDAY TO ESTHER WAN YI SZE IN AUS!!
Whee~ You rock. ;)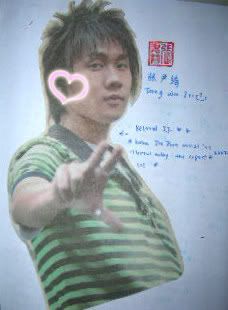 I love my stamp thing. x)
Aaron Kwok and Takeshi Kaneshiro have beatiful charming eyes. *stares deeply*
Zhou Xun's voice is so
DEEP
.
Jay Chou is a naughty boy. Naughty as in kiddie type of naughty. -______-;;
AH!! TRC is over!!!!!! > < I still hadnt had enough of Syaoran and Fye and Sakura... T______T
I'm so gonna download TRC and
The Law of Ueki
OSTs! Beautiful songs.
My grand aunt's son's house has a karaoke room. O_O Do they hv abundance of $$?
Read more...