>> Thursday, 27 July 2006
Happy (belated) birthday Shi Ching "Wormie" and Ser Siang!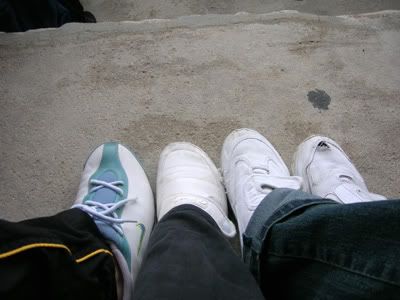 I call this,
The Hole-y Shoes
.
L-R: Hooi Teng, Iyin, Me, Wan Ying.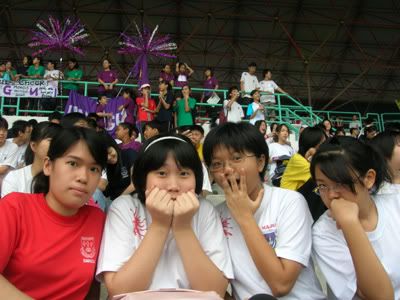 The girl at the most left is seriously leng chai. I think she should pose like that more often.
L-R: Hooi Teng, Rene, Iyin,
The Poser
Me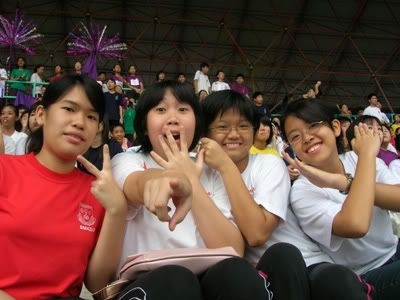 I DAMN love Rene's pose! =D
It's not an ultraman sign, it's an anti-Maju sign. xP Initially they were taking photos as The Maju People, but I added myself in. Haha.
L-R: Hooi Teng, Rene, Iyin,
Ultraman
Ultrawoman
Me
After that we went to McD. A little Malay boy knocked on the window. I saw him, of course, and then he smiled at me. Smiles back to you, little guy. =D
Khai Sim was seriously bored, so she came and sat with me.
Khai Sim: Eh, is that your little brother?
Me: No, it's Pin's.
Khai Sim: *Look at Pin, then brother, then Pin* They dont look alike leh.
Me: Uh huh.
Khai Sim: I thought he's your boyfriend. *giggling*
Me: O_O HUH?! He looks like my boyfriend meh?!
Khai Sim: Yea.
Me: Does he looks like he's elder than me?
Khai Sim: Uh huh.
Me: -_____-;; But he's smaller than me by 3 months la.
Khai Sim: He's in Form 4?
Me: No, Form 3.
Khai Sim: O_O You're a PTS student ar?! *unbelievable* *stares at me*
Me: Uh... huh. I thought you knew it already.
Iyin: *shouts from somewhere* Just like before...
At least I dont feel much insulted, cuz Pin's bro is cute. xP