>> Saturday, 25 June 2005
I was supposed to go to Kedah, but then I refused. 2 reasons: i would be more bored there, cuz nobody can chat or crap or play with me. i cant mix with them. i dunno why. maybe they're more mature, they're not playful, they dont crap. sigh.

This icon is so cool. found it on blogskins, somebody's "photo", but i forgot its who's.

We (iyin pin zhe juin me) ended up singing on lian huan hui. long story. Hmm. i hope we dont get stage fright, or forget our lyrics. and zhe juin must at least be brave enough to sing for us, and iyin must not sing out of tune.

I'm getting crazy about photoshop and also jang nara XD My first work! Featuring Jang Nara! Arent she gwiyeowo (cute in korean)?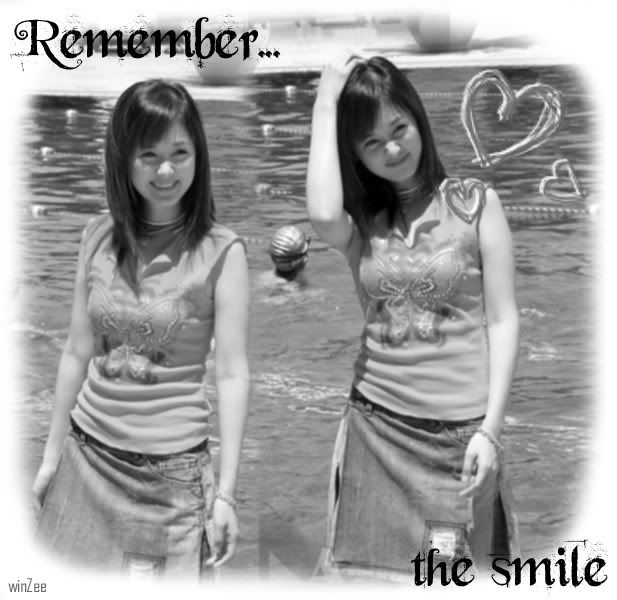 I cant think of a better phrase to put on. The photos was took in Taiwan. Hmm. If pin's hair is thicker (and brown), and she's taller, then maybe she'll looks like jang nara =p

Credits
Kawaiiness
Only-for-love
Official English Website of Jang Nara

Actually I wanna make it like a film, with those lines on it, or have a grungy feel, but i dunno how.

I even made an avatar, featuring Jang Nara too. And now its my display pic on my MSN. Nothing special though, except that i've learned a new skill =)

Decided to make another blend, maybe featuring another korean star XD

JJ is coming to Malaysia! Woohoo! *sings* i got the schedule~ Hah. I must go and meet him! I dont mind getting tuition, get scolded, make fun of me cuz i like JJ...... i just wanna meet him! Haha. I'm crazy =p JJ is a bad bad boy. He make me lose lots of things. lol just joking =p

Happy birthday Hui Lynn!
Read more...